Where are all the Airplane fans at?
Come out and play!
Jefferson Airplane's debut show was on August 13, 1965 at
the Matrix nightclub in San Francisco. The first
performance featured Marty Balin on vocals, Paul Kantner on
vocals/rhythm guitar, and Jorma Kaukonen on lead guitar.
Signe Anderson, (who sang on Jefferson Airplane's first
recording "Jefferson Airplane Takes Off') also performed.
The bass player, Jack Casady and drummer Skip Spence, (who
was later one of the original members of Moby Grape) joined
the band two months later. Spencer Dryden became the
drummer in June of 1966 and Grace Slick joined as vocalist
in October of 1966. The band performed the first concert
for Bill Graham at the legendary Fillmore Auditorium in San
Francisco in February of 1966.





"I used to feel bad about being born too late in the 1960's to absorb fully the signal American epoch -- most efficiently embodied by Woodstock, Watergate and the Vietnam war -- that followed. The American generation I fell into grew up feeling a little bit like a bunch of left-out losers, because the Baby Boomers would have you know that in order to understand the United States and politics and tragedy and intellectual freedom, you had to have lived through the demonstrations against the Vietnam War and the assassinations of the 1960's. The heroes of my generation were not murdered; we didn't discover LSD; we didn't protest wars. Our hero was the Six Million Dollar Man. All we got was disco, Ronald Reagan, chronic fatigue syndrome and a few half hearted nostalgic strikes at Columbia University, 20 years late."
JA Survey
What is your favorite album?
What is your favorite album cover?
Which songs do you favor?
Which one has the best message?
Which song represents you?
Which songs do you overplay?
Which is the most underrated JA song?
Favorite vocalist?
Favorite instrumentalist?
What's your least favorite album (or not as played album)?
Least favorite song?
Most annoying song?
Most repetitive song?
Last song to be stuck in your head?
What was the first song you remember listening to?
What's their best show?
Favorite year for JA?
Have you asked alice?
Read any books on JA?
Seen any of their concerts?
Have you meet any of the members?
Which member are you dying to meet?
Would you change anything about the band?
"Without Monterey Pop Festival there wouldn't have been a Woodstock, and in many ways I honestly find Monterey Pop more interesting than Woodstock. Unpopular Opinion but there you go. I mean, Monterey Pop took place during the HEIGHT of the Summer of Love (which really is quite darker than people like to admit or characterize but that's another story because I prob shouldn't go on my 60s subculture stanning rn) while Woodstock took place in 1969. I'm not saying that Woodstock is any less culturally significant because of that, because it's not, but I hate that Monterey Pop is rarely given the attention it deserves. Also, Otis Fucking Redding performed, and Jimi Hendrix's…guitar burning thing occurred there. Just…gah, there was some choice stuff."
"Don't ever change, people!"

"Loose ends were a big part of psychedelic rock; they went with its improvisational spirit. The reunited Jefferson Airplane, which opened a two-night stand Tuesday at Radio City Music Hall, kept some of those loose ends in a generous, two-part concert that veered between the 1960's and the 1980's. Although it had such modern trimmings as lighting effects, smoke machines and synthesizers, it was also refreshingly informal. The stagecraft came from the unregimented 1960's. Band members wandered around, singers faced one another as often as the audience."
Fuck Yeah?
http://fuckyeahswinging60s.tumblr.com/
http://fuckyeahhgraceslick.tumblr.com/
http://fyeahhippies.tumblr.com/
http://fuckyeahpsychedelic60s.tumblr.com/
http://fuckyeahjanisjoplin.tumblr.com/
http://fuckyeahelvispresley.tumblr.com/
1. Grace Slick once said her favorite music to listen to was Jefferson Starship and John Denver. She said she thought John Denver looked like
-A turkey
-A drug addict
-An angel
-A farmer
2. What did Grace Slick name her autobiography?
-"Somebody to Love?"
-"We Built This City"
-"Woman With a Greasy Heart"
-"Spitfire"
3. Complete the lyric by Grace Slick: "You've got a love too..."
-be real
- good
-die for
-psychedelic
4. Complete the lyric by Paul Kantner: "Look to the summer of ...."
-Sweating snakes
-Love
-'75
-The human be-in
5. Which black musician was a member of the Jefferson Starship?
-Stanley Clark on bass
-Jefferson Davis on drums
-Jimi Hendrix on guitar
-Papa John Creech on violin
6. What would happen, according to the lyric by Marty Balin, "If only you'd believe in miracles"?
-"we'd have a baby"
-"the world would be at peace"
-"we'd get by"
-"we could take fantastic trips"
7. Complete the lyric by Grace Slick: "Living in stories, living in books, or we can ...."
-take a psychedelic trip
-run away
-see the saucers
-live
8. Who did Grace Slick say was a "copy-band" of the Jefferson Starship?
-Heart
-Abba
-Fleetwood Mac
-Strawberry Alarm Clock
9. What appears on the cover of the album "Red Octopus"?
-Grace Slick's bare butt
-A woman sitting on a dragon
-A man with a tape recorder up his nose
-A heart with tentacles
10. A Japanese justice of the peace married Grace Slick to Skip Johnson in 1976. Where?
-The Lahaina Hotel, Maui, Hawaii
-On the "Johnny Carson Show"
-Highland Park, Illinois
-The Hilton Hotel, Tokyo, Japan
11. Which of the following is the title of an album by the Jefferson Airplane?
-Oink
-Quack
-Bark
- Meow
12. Why did the Jefferson Airplane not appear in the "Woodstock" movie?
-The band was too stoned and drunk to play
-They woke early and played while the camera crew slept
-Jack Cassidy sold their instruments to Santana
-Grace Slick was covered with mud
13. What was wrong with the Jefferson Airplane's performance as it appeared in the film, "Monterey Pop"?
-They were filmed in black and white by mistake.
-Grace appeared on film while Marty was singing
-The editors chose to include, 'My Way' which they had played as a joke
-The film was archival
14. Which statement is true?
-Red Octopus (by the Jefferson Starship) sold more albums than all the Jefferson Airplane's albums combined
-Grace slick dowsed the punch bowl with drugs at a White House lawn party
-When the Jefferson Airplane played on the same bill as the Grateful Dead, the Dead had top billing
-Jack Cassidy and Jorma Kaukonen left a band called Hot Tuna to join up with Marty Balin and Signe Anderson to form Jefferson Airplane
15. What happened at Altamont?
-Grace took off her top and said, "I'll show you the rest if you guys quit fighting."
-Jack went up to the mike and said, "Who's fighting? Why are we fighting?"
-Marty got into a fist fight with a member of the 'Hell's Angels.'
-Paul said into the mike, "If those cats don't cool it we don't play
16. According to Grace Slick's autobiography, with which member of the Jefferson Airplane did Grace Slick not have an affair?
-drummer Spencer Dryden
-singer Marty Balin
-lead guitarist Jorma Kaukonen
-bass player Jack Cassidy
17. Which song was used as the theme song to the movie, "Go Ask Alice"?
-Crown of Creation
-Somebody to Love
-White Rabbit
-Volunteers
18. Which song was heard in the movie, "The Game" starring Michael Douglas?
-Greasy Heart
-White Rabbit
-Have You Seen the Saucers?
-Eat Starch Mom
19. Which song did Jim Carrey sing in the movie, "Cable Guy"?
-High Flyin' Bird
-She Has Funny Cars
-Somebody to Love
-Plastic Fantastic Lover
20. What did Paul and Grace name their baby?
-China
-Fred Mertz
-Moon Unit
-They didn't name the baby. They let the baby grow up and choose its own name, which was Stephanie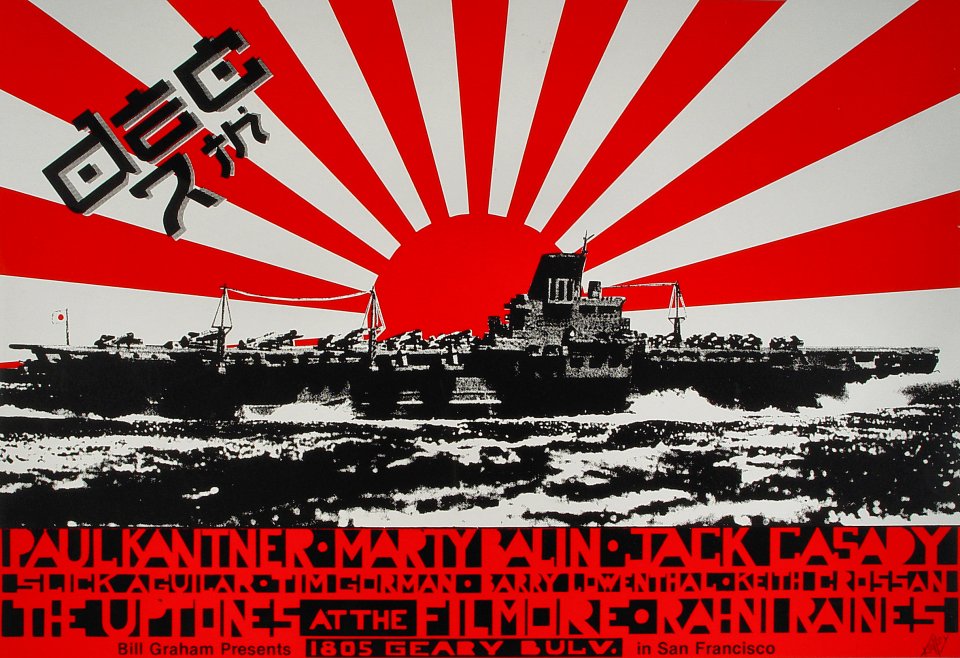 http://tralfaz-archives.com/coverart/J/Jefferson_Airplane/jefferson_barkF.jpg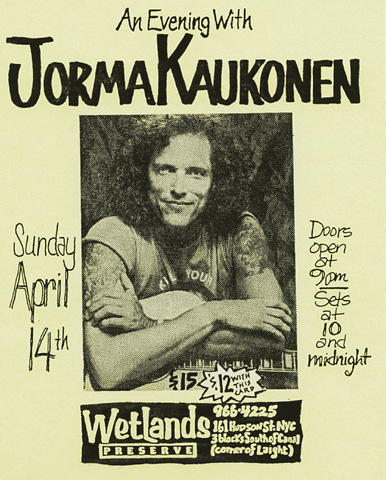 Track list:
http://www.mediafire.com/?8t738hyb3lu7kh3
1. L.S.D. - The Pretty Things
2. We Can Be Together - Jefferson Airplane
3. Rattle Snake Shake - Fleetwood Mac
4. Sure 'Nuff 'N Yes I Do - Captain Beefheart
5. We Love You - The Rolling Stones
6. Because - The Beatles
7. I'm Set Free - The Velvet Underground
8. Midnight Hour - The Chocolate Watch Band
9. What Am I Gonna Do - The Dovers
10. I Feel Free - Cream
11. Gone And Passes By - The Chocolate Watch Band
12. Tomorrow Never Knows - The Beatles
13. Care Of Cell 44 - The Zombies
14. She's a Lover - The Pretty Things
15. Eight Miles High - The Byrds
16. You're Gonna Miss Me - 13th Floor Elevators
17. 2000 Light Years From Home - The Rolling Stones
18. Are You Experienced? - Jimi Hendrix Experience
19. Season Of The Witch - Donovan
20. Artificial Energy - The Byrds
21. Run Run Run - The Velvet Underground
22. White Rabbit - Jefferson Airplane
23. Real Cool Time - The Stooges
24. Kick Out The Jams - MC5
25. The End - The Doors
Go ride their music!